Tennis Court Backdrop Curtains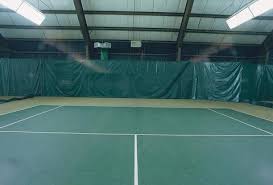 Indoor tennis court backdrop curtains provide players with walls that effectively define the playing area. Backdrops also provide the players with a background for seeing the ball better.
Tennis court backdrops curtains can have individual doorways with viewing mesh.
ACC- 20 BACKDROP CURTAINS
ACC-20 Tennis Court Backdrops are the most durable curtains on the market today. All Court Covers tennis court backdrops are well built, 20 oz. vinyl polyester curtains that are able to stand up to the worst abuse tennis curtains can experience. ACC curtains are custom made to fit your facility.
Tennis court backdrop curtains are made with web straps on top and grommets in the top hem. This web strap allows the tennis curtain to be installed straight across the wire. Tennis court backdrop curtains are delivered installation-ready. All ACC-20 tennis court backdrops are fire retardant, and pass all codes enforced by the National Fire Protection Association (NFPA).
Colors range from sixteen different selections.
Warranty:
Warranty: (ACC-20) includes an unconditional 10-year product warranty. The warranty includes a lifetime warranty for the curtains' die-electric seams.
Wrap: 191-method standards are met with the mechanical properties of the material
100-pound wrap and 100-pound fill (5134.5) Tear Strength
25 pounds per 2-inch Coating Adhesion (5970)
125 pound resistance from puncture with 0.31 chisel tip (5903)
Tennis Backdrops with Individual Doorway
ACC- 14 INDOOR TENNIS COURT BACKDROP CURTAINS
ACC-14 Tennis Court Backdrops are made of 14 ounce vinyl. AllCourt Covers fabricates this product to stand up to a mid range of abuse while staying cost efficient. All of our tennis backdrop curtains are custom made to your facility measurements. This backdrop curtain is manufactured with a web strap on top, and 18″ on center grommets on the top hem. The web strap allows the tennis curtain to be installed straight across the wire.
Every ACC-14 Tennis Court Backdrop curtain is flame retardant. They all pass all NFPA regulations as well.
Available colors: blue and medium-green.
Tennis Court Backdrop Curtains 14 ounce
Warranty: Five (5) Year Warranty. Lifetime warranted on seams.
Tennis Wing Ends
material 100% vinyl laminated polyester
weight 13ozcount 9 x 9/1indenier 1,000tensile strength 253/223 lbs/intear strength 74/65 lbs/inadhesion 24lbsgerm/odor treatmentfire retardant pass
Backdrop Curtain Doorways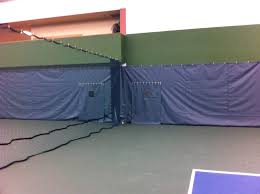 Individual Doorways
ACC doors sit right on the curtains. They don't hang from the wire. The player simply moves the flap to enter the court. All standard doors can be easily and economically replaced.

All Court Covers' individual doors are built as part of the curtains. They hang off the curtain itself and not the wire. Individual doorways include hinges, allowing safe and easy access. Doorways can have viewing mesh put in them as well as court numbers stenciled on the door.
Viewing Mesh
ACC custom designed window provides players with the ability to see what is going on on the court. As a result, no players are disturbed while at play. Spectators can view the players without distraction. ACC gives the club the choice of installing angled corners. Owners can opt to make a mesh window in any open areas of the tennis curtain. Angled corners can be custom made to fit the corners of your court. ACC has the option of installed mesh windows. Add your club logo to make the transformation complete.
Do you want custom tennis court backdrop curtains that have an individual doorway with a viewing mesh in it? Do you want the tennis court backdrop curtains to have a California corner? Every ACC tennis backdrop curtain is made to meet individual specifications.
No two wire heights are exactly the same. No two curtain heights will be the same either. Give us a call to discuss individual doorways with viewing mesh or California corners.
Custom Indoor Sports Products
All Court Covers- 20 custom Backdrop Curtains keep courts private and compartmentalized while also providing a seamless background to ease ball tracking for players. Whether you are looking for top of the line heavy-duty curtains or a more economical solution, we offer Backdrop Curtains suitable for every club. ACC- 20 Curtains: Made from heavy 20 oz vinyl coated polyester, ACC's custom 20 oz Curtains are manufactured with a unique adhesion process so that the fabric will not separate under the heaviest abuse. The ACC- 20 Curtains are simply the most durable backdrop curtains offered on the market. Our ACC-20 Curtains are available in Royal Blue and Tennis Green.
ACC- 14 Curtains: Made from durable yet lighter weight 14oz vinyl polyester laminate, the 14 oz Curtain is most appropriate for moderate abuse. ACC- 14 Curtains are an excellent choice for the discriminating, yet economically conscious facility. Although 14 is a lighter material, the high tensile strength gives you the confidence that the curtains will stand up to the wear and tear of every day court use. All 14 Curtains meet the highest federal and California flame retardant codes. ACC- 14 Curtains are available in Blue, Forest Green, Black, Red, and Tan.
Hi-Line Curtains: To enhance the look of a club, facility managers often want to cover the walls above eyesight. For this application ACC offers the light-weight vinyl 14 Curtain, outlined above, or a light mesh curtain Mesh available in Black, White, Spruce Green, Yellow, Red, Navy Blue, Royal Blue, and Grey Fabricated to dimensions suitable to your facility's architectural design Hemmed with reinforced webbing and brass grommets built-in every 12 inches S Hooks installed along the top of each curtain for straight line installation and both track and cable systems available.
I